Compiled by Senior Steward Billy Kozuh, authors unknown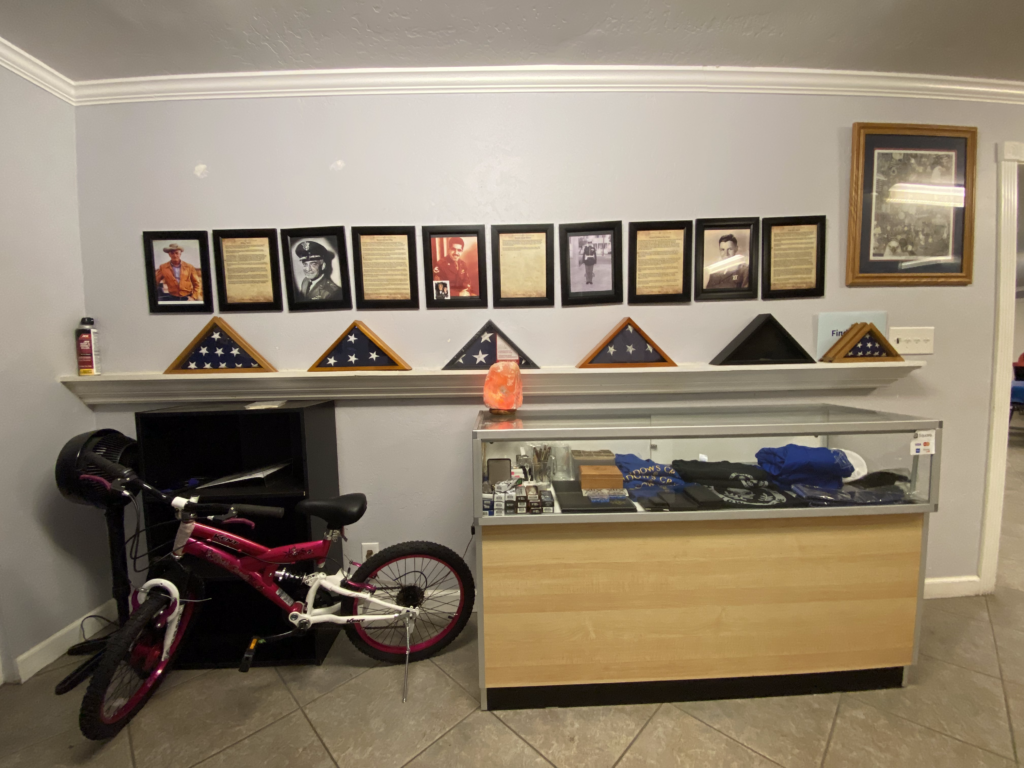 Brother William Norris: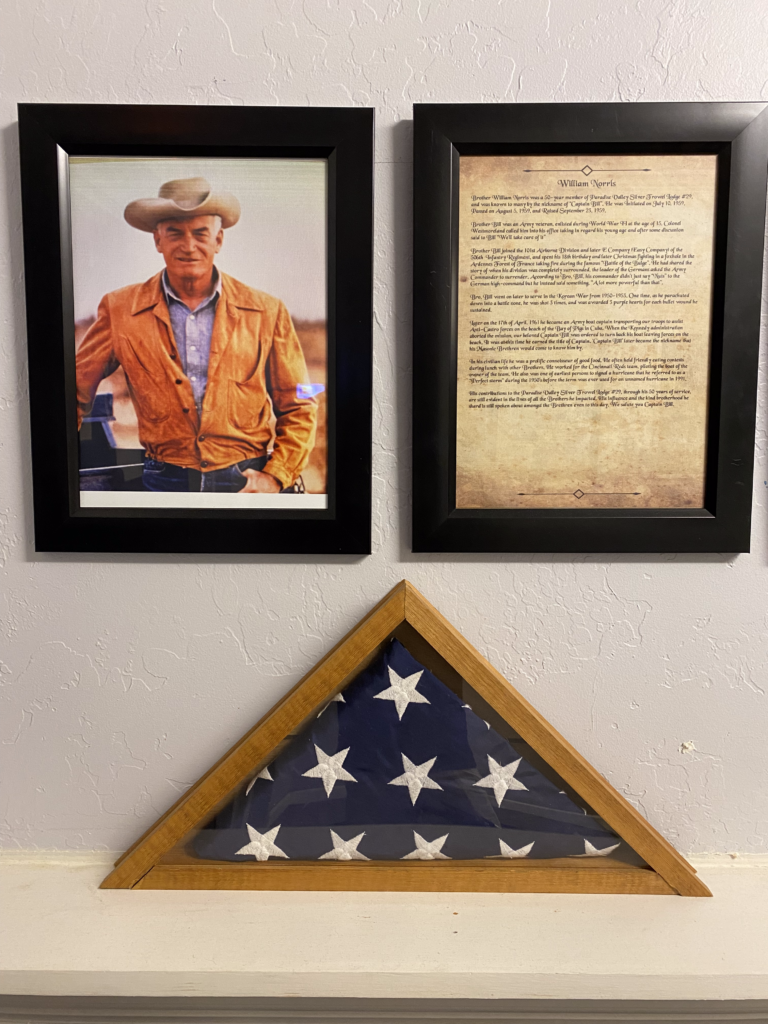 Brother William Norris was a 50-year member of Paradise Valley Silver Trowel Lodge #29, and was known to many by the nickname of "Captain Bill." He was Initiated on July 10, 1959, Passed on August 5,1959,and Raised September 23, 1959.
Brother Bill was an Army Veteran, enlisted during World War II at the age of 15. Colonel Westmoreland called him into his office taking in regard his young age and after some discussion said to Bill "We'll take care of it."
Brother Bill joined the 101st Airborne Division and later E company (Easy Company) of the 506th Infantry Regiment, and spent his 18th birthday and later Christmas fighting in a foxhole in the Ardennes Forest of France taking fire during the famous "Battle of the Bulge." He had shared the story of when his dimension was completely surrounded, the leader of the Germans asked the Army Commander to surrender. According to Bro. Bill, his commander didn't just say "Nuts" to the German high-commander but he instead said something "A lot more powerful than that."
Bro. Bill went on later to serve in the Korean War from 1950-1953. One time, as he parachuted down into a battle zone, he was shot three times, and was awarded three Purple Hearts for each bullet wound he sustained.
Later on the 17th of April, 1961 he became an Army boat captain transporting our troops to assist Anti-Castro forces on the beach of the Bay of Pigs in Cuba. When the Kennedy administration aborted the mission, our beloved Captain Bill was ordered to turn back his boat leaving forces on the beach. It was at this time he earned the title of Captain. "Captain Bill" later became the nickname that his Masonic Brethren would come to know him by.
In his civilian life he was a prolific connoisseur of good food. He often held friendly eating contests during lunch with other Brothers. He worked for the Cincinnati Reds team, piloting the boat of the owner of the team. He also was one of the earliest reasons to signal a hurricane that he referred to as a "Perfect Storm" during the 1950's before the term was ever used for an unnamed hurricane in 1991.
His contributions to the Paradise Valley Silver Trowel Lodge #29, through his 50 years of service, are still evident in the lives of all the Brothers he impacted. His influence and the kind brotherhood he shared is still spoken about amongst the Brethren even to this day. We salute you Captain Bill!
Barry Goldwater Flag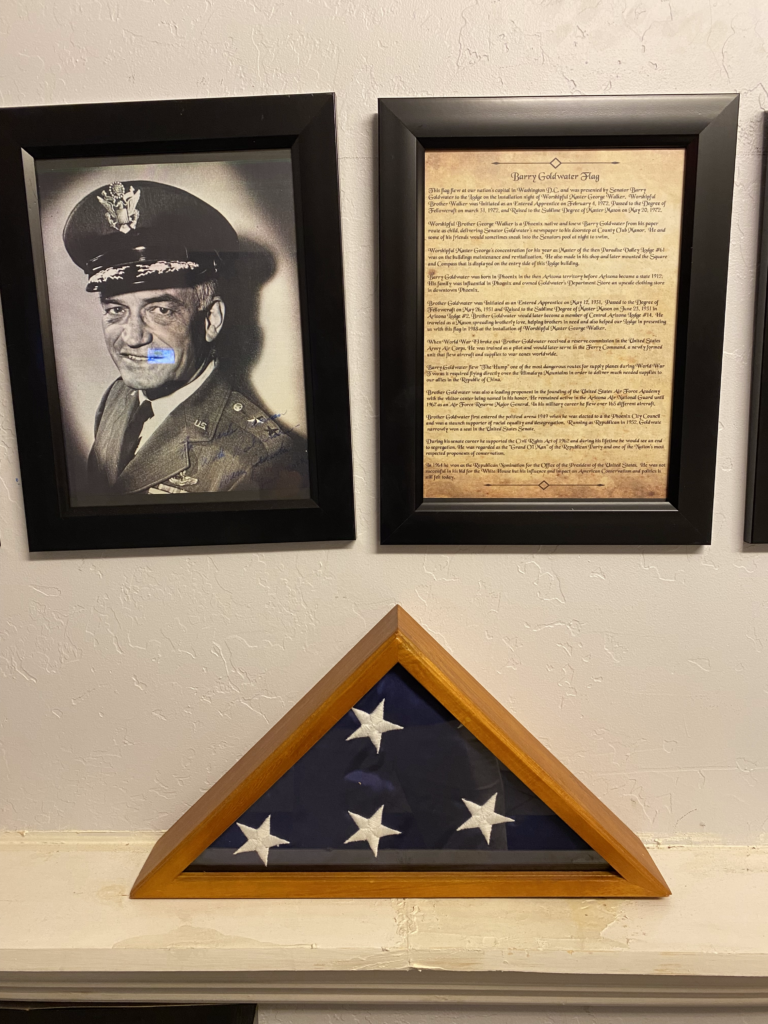 This flag flew at our nation's capital in Washington D.C., and was presented by Senator Barry Goldwater to the Lodge on the installation night of Worhipful Master George Walker. Worshipful Brother Walker was Initiated as an Entered Apprentice on February 4, 1972, Passed to the Degree of Fellowcraft on March 31, 1972, and Raised to the Sublime Degree of Master Mason on May 20, 1972.
Worshipful Brother George Walker is a Phoenix native and knew Barry Goldwater from his paper route as a child, delivering Senator Goldwater's newspaper to his doorstep at Country Club Manor. He and some of his friends would sometimes sneak into the Senator's pool at night to swim.
Worshipful Master George's concentration for his year as master of the then Paradise Valley Lodge #61 was on the buildings maintenance and revitalization. He also made in his shop and later mounted the Square and Compass that is displayed on the entry side of this Lodge building.
Barry Goldwater was born in Phoenix in the then Arizona territory before Arizona became a state in 1912. His family was influential in Phoenix and owned Goldwater's Department Store, an upscale clothing store in downtown Phoenix.
Brother Goldwater was Initiated as an Entered Apprentice on May 12, 1931, Passed to the degree of Fellowcraft on May 26, 1931, and Raised to the Sublime Degree of Master Mason on June 23, 1931 in Arizona Lodge #2. Brother Goldwater would later become a member of Central Arizona Lodge #14. He traveled as a Mason spreading brotherly love, helping brothers in need and also helped our Lodge in presenting us with this flag in 1988 at the installation of Worshipful Master George Walker.
When World War II broke out Brother Goldwater received a reserve commission in the United States Army Air Corps. He was trained as a pilot and would alter serve in the Ferry Command, a newly formed unit that flew aircraft and supplies to war zones worldwide.
Barry Goldwater flew "The Hump," one of the most dangerous routes for supply planes during World War II as it required flying directly over the Himalaya Mountains in order to deliver much needed supplies to our allies in the Republic of China.
Brother Goldwater was also a leading proponent in the founding of the United States Air Force Academy with the visitor center being named in his honor. He remained active in the Arizona Air National Guard until 1967 as an Air Force Reserve Major General. In his military career he flew over 165 different aircraft.
Brother Goldwater first entered the political arena in 1949 when he was elected to the Phoenix City Council and was a staunch supporter of racial equality and desegregation. Running as a Republican in 1952, Goldwater narrowly won a seat in the United States Senate.
During his senate career he supported the Civil Rights Act of 1962 and during his lifetime he would see an end to segregation. He was regarded as the "Grand O'l Man" of the Republican Party and one of the Nation's most respected proponents of conservatism.
In 1964 he won as the Republican Nomination for the Office of the President of the United States. He was not successful in his bid for the White House but his influence and impact on American Conservatism and politics is still felt today.
Dominic Joseph Valente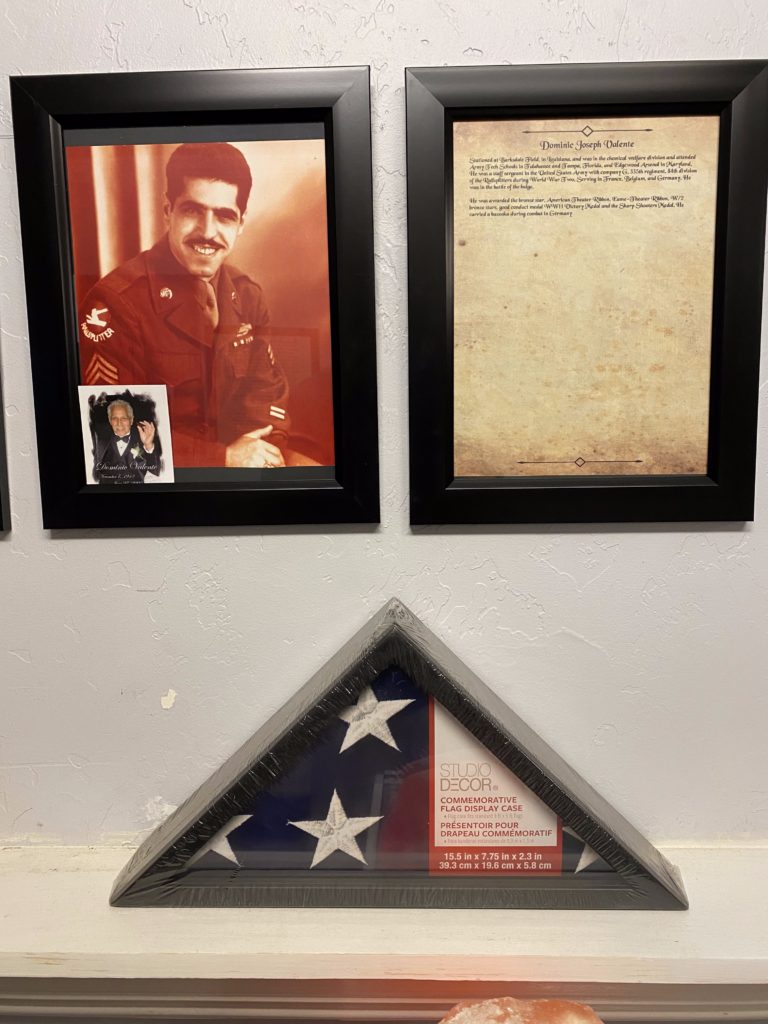 Stationed at Barksdale Field in Louisiana, and was in the chemical warfare division and attended Army Tech Schools in Tallahassee and Tampa, Florida, and Edgewood Arsenal in Maryland. He was a staff sergeant in the United States Army with Company G 335th regiment, 84th division of the Railsplitters during World War II. Serving in France, Belgium, and Germany. He was in the Battle of the Bulge.
He was awarded the bronze star, American Theater Ribbon, Fame-TheaterRibbon, W/2 bronze stars, good conduct medal, WWII Victory Medal and the Sharp Shooters medal. He carried a bazooka during combat in Germany.
Edward Demarest MacIntyre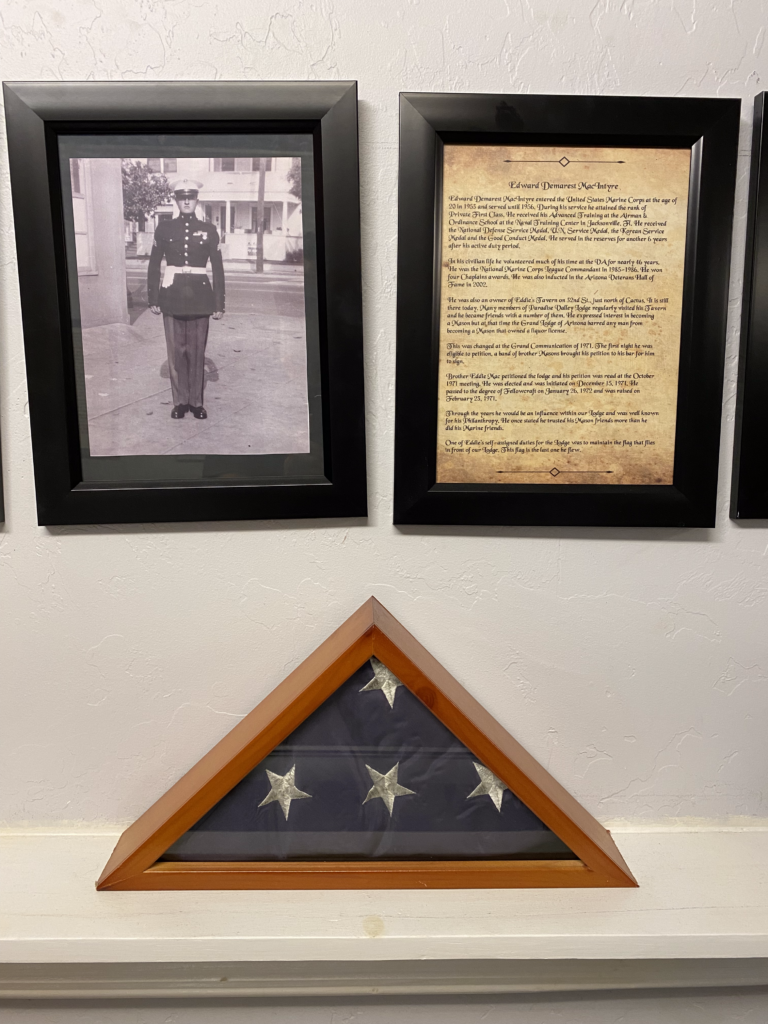 Edward Demarest MacIntyre entered the United States Marine Corps at the age of 20 in 1953 and served until 1956. During his service he attained the rank of Private First Class. He received his Advanced Training at the Airman & Ordinance School at the Naval Training Center in Jacksonville, Fl. He received the National Defense Service Medal, C.N Service Medal, the Korean Service Medal and the Good Conduct Medal. He served in the reserves for another 6 years after his active duty period.
In his civilian life he volunteered much of his time at the VA for nearly 46 years.
He was the National Marine Corps League Commandant in 1985-1986. He won four Chaplains awards. He was also inducted in the Arizona Veterans Hall of Fame in 2002.
He was also an owner of Eddie's Tavern on 32nd St., just north of Cactus. It is still there today. Many members of Paradise Valley Lodge regularly visited his Tavern and he became friends with a number of them. He expressed interest in becoming a Mason but at that time the Grand Lodge of Arizona barred any man from becoming a Mason that owned a liquor license.
This was changed at the Grand Communication of 1971. The first night he was eligible to petition, a band of brother Masons brought his petition to his bar for him to sign.
Brother Eddie Mac petitioned the lodge and his petition was read at the October 1971 meeting. He was elected and was Initiated on December 15, 1971. He Passed to the degree of Fellowcraft on January 26, 1972 and was Raised on February 23, 1971.
Through the years he would be an influence within our Lodge and was well known for his Philanthropy. He once stated he trusted his Mason friends more than he did his Marine friends.
One of Eddie's self-assigned duties for the Lodge was to maintain the flag that flies in front of our Lodge. This flag is the last one he flew.
WB Dick Russell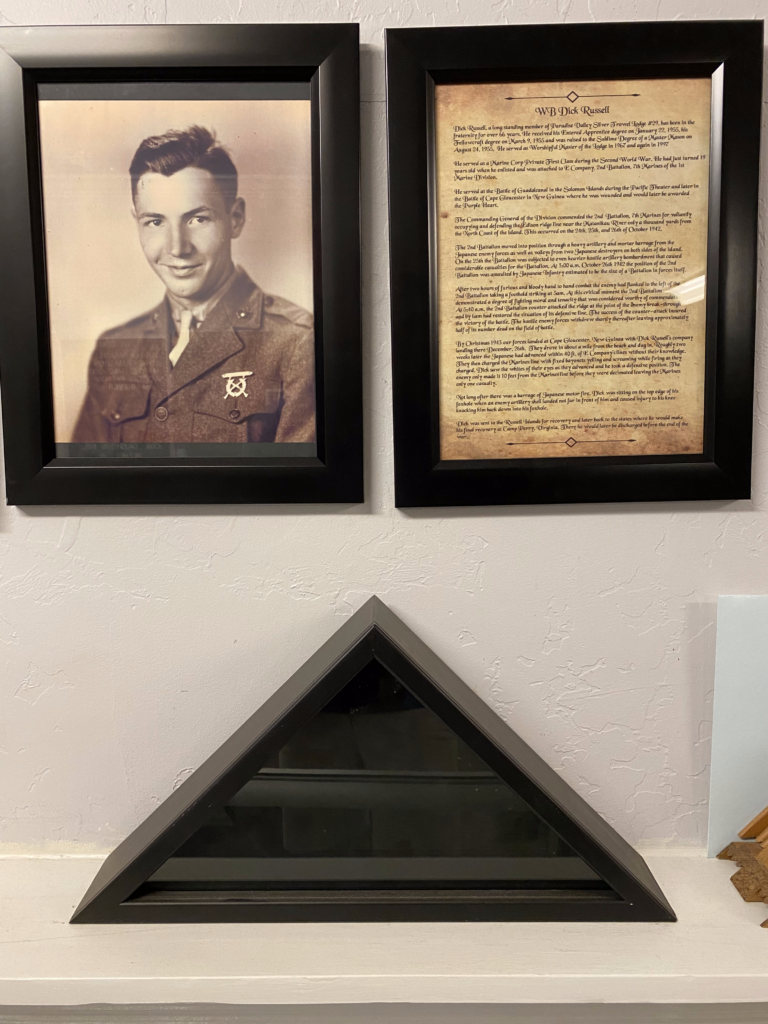 Dick Russell, a long standing member of Paradise Valley Silver Trowel Todge #29, has been in the fraternity for over 66 years. He received his Entered Apprentice degree on January 22, 1955, his Felloweraft degree on March 9, 1955 and was raised to the Sublime Degree of a Master Mason on August 24, 1955. He served as Worshipful Master of the Lodge in 1967 and again in 1997.
He served as a Marine Corp Private First Class during the Second World War. He had just turned 19 years old when he enfisted and was attached to E Company. 2nd Battalion, 7th Marines of the 1st Marine Division.
He served at the Battle of Guadalcanal in the Solomon Islands during the Pacific Theater and later in the Battle of Cape Gloucester in New Guinea where he was wounded and would later be awarded the Purple Heart.
The Commanding General of the Division commended the 2nd Battalion, 7th Marines for valiantly occupying and defending the Edison ridge line near the Matanikau River only a thousand yards from the North Coast of the island. This occurred on the 24th, 25th, and 26th of October 1942.
The 2nd Battalion moved into position through a heavy artillery and mortar barrage from the Japanese enemy forces as well as volleys from two Japanese destroyers on both sides of the island.
On the 25th the Battalion was subjected to even heavier hostile artillery bombardment that caused considerable casualties for the Battalion. At 3:00 a.m. October 26th 1942 the position of the 2nd Battalion was assaulted by Japanese Infantry estimated to be the size of a Battalion in forces itself.
After two hours of furious and bloody hand to hand combat the enemy had flanked to the left of the 2nd Battalion taking a foothold striking at 5am. At this critical moment the 2nd Battalion demonstrated a degree of Fighting moral and tenacity that was considered worthy of commendation.
At 5:40 a.m. the 2nd Battalion counter attacked the ridge at the point of the anemy break-through and by bam had restored the situation of its defensive line. The success of the counter-attack insured the victory of the battle. The hostile enemy forces withdrew shortly thereafter leaving approximately half of its number dead on the field of battle.
By Christmas 1943 our forces landed at Cape Gloucester, New Guinea with Dick Russell's company landing there December, 26th. they drove in about a mile from the beach and dug in. Roughly two weeks later the Japanese had advanced within 40 ft. of E Company's lines without their knowledge.
They then charged the Marines line with fixed bayonets yelling and screaming while firing as they charged. Dick saw the whites of their eyes as they advanced and he took a defensive position. The enemy only made it 10 feet from the Marines line before they were decimated leaving the Marines only one casualty.
Not long after there was a barrage of Japanese motor fire. Dick was sitting on the top edge of his foxhole when an enemy artillery shell landed not far in front of him and caused injury to his knee knocking him back down into his foxhole.
Dick was sent to the Russell Islands for recovery and later back to the states where he would make his final recovery at Camp Perry, Virginia. There he would later be discharged before the end of the war.